29th October 2003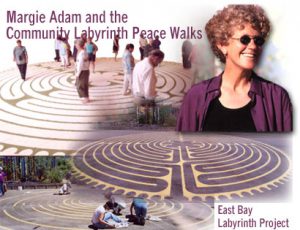 Margie's work with the labyrinth continues to evolve.
Her interest in introducing this grounding tool to the peace & justice communities led her to produce several Community Labyrinth Peace Walks in the first half of 2003. Out of those events, the East Bay Labyrinth Project was formed. This organization of volunteers is dedicated to installing a stone labyrinth in a public and accessible site in Berkeley, CA.
Her appearances will continue to reflect her work as an organizer as well as a musician.
Click here for Margie's comments on her work with the labyrinth as it relates to the peace and justice movement.