2005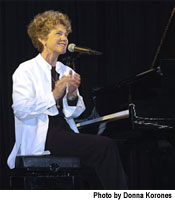 Many people feel great concern about assaults on peace and justice occurring around the world. Finding positive energy to resist and persist in the midst of these challenges seems difficult and exhausting.
Margie has created a cultural event for this moment. The PORTAL Experience includes two events folded into one: a concert followed by a community labyrinth peace walk.
In addition, Margie has developed a two-hour labyrinth workshop intertwining labyrinth history and community-building with applications for our healing, peace and justice work. This workshop includes a presentation, facilitated walk and a post-walk dialog.
Whether sharing The PORTAL Experience, a labyrinth workshop or a simple, intimate evening of music, humor and social commentary, Margie's intention is the same: to activate and reaffirm the progressive community spirit that will fuel us for the long haul.
For more information about bringing Margie to your community, please contact Pleiades Records