Avalon is in Borders Listening Stations Nation-Wide:
September 15 – November 15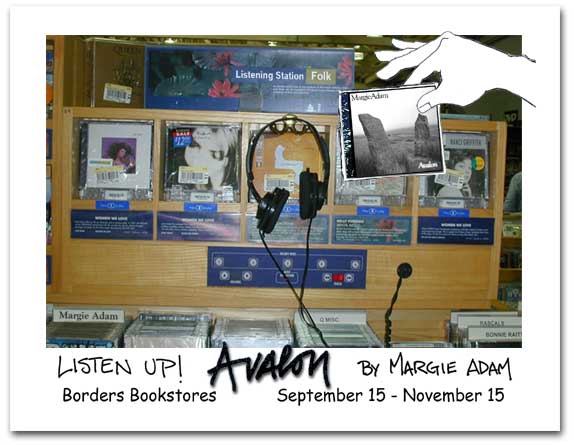 Thanks to activist listeners (see "Borders Action") and our sisters at Goldenrod distribution… We Did it! Borders Books and Music and Pleiades Records have come to an agreement that Margie's new cd, Avalon will be placed in all Borders listening stations for a two-month period from September 15 through November 15. Avalon has been chosen from a fiercely competitive pool of artists' new releases to fill one of the coveted stations because listeners lobbied the bookstores to carry Margie's music. Who says that a small but mighty group of activists can't make a difference?!
We are very happy to have Margie's music accessible in all 340 Borders Stores. If you have not yet had an opportunity to hear Avalon, here is your chance!
What's the big deal?!
Why are we getting so worked up about this, you might ask! For the first time in many years, Margie's music will be available to many listeners who have not been able to find it in their local stores. In recent times, independent music in general, and Women's Music in particular, has suffered greatly from the concentration of record labels, radio stations, record stores and media outlets into the hands of a few mega-companies. These music conglomerates effectively reinforce themselves and their limited roster of artists in all outlets, at all times. There is very little room for independent music in this context. Practically speaking, this means it is almost impossible to get our music in record stores, reviews in newspapers, airplay on radio stations. As a result, it is a Herculean task to reach an audience that would surely appreciate independent women's music. If not for the relentless efforts of the women at Goldenrod and Ladyslipper distribution companies, Women's Music would not hold any space in the cultural arena.
Women's Bookstores: Our Past, Our Future
With no more than forty women's bookstores left in America, the on-going availability of Women's Music is seriously threatened. Margie's commitment to supporting women's bookstores is well-known: in 1997, she organized a concert tour especially focused on raising awareness of the plight of these precious outlets for women's culture. We encourage all listeners who have women's bookstores in your locality to purchase Margie's and other Women's Music at these stores. Keeping the network of women's bookstores alive and growing means never having to count on mainstream bookstores to carry radical feminist literature and music.
For more information: Pleiades Records