We Shall Go Forth! A speech by Margie Adam – March for Women's Lives – Washington DC April 25, 2004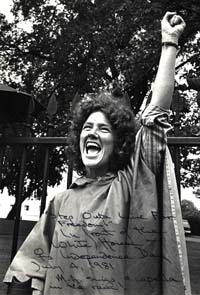 "We Shall Go Forth!" I wrote those lyrics 25 years ago when this country was ablaze with feminist activism. And here we are – 25 years later – poised to light another bonfire with our determination! We Shall Go Forth!
Some of us have come to Washington DC to march for women's rights for the first time – motivated by fear, by anger, by the hope that our presence here will make a difference. Many of us are returning here – yet again – because the work is not over. We Shall Go Forth!

Those of us gathering here today – those gathering in other places across America – those watching C-Span – we are all part of a proud heritage of women in resistance stretching back into ancient times. We are young women, we are middle-aged and old women, we are lesbians, we are women of color, we are disabled women, we are poor women, wealthy women, we are mothers, we are daughters. We have come great great distance as individuals – and as a people. And we will not go back – We Shall Go Forth!
We are part of an on-going international movement for the liberation of all women everywhere. In fact, leaders and activists from 56 countries have joined with us here. This is our stand.
Today – women, men who love women and our children will march for women's lives – and in that marching we will reaffirm the simple truth that women can and must stand up NOW and say: we will not go back – We Shall Go Forth!
Copyright © www.margieadam.com You are welcome to reprint this speech. Please credit: "We Shall Go Forth!" A speech by Margie Adam – March for Women's Lives –
Washington DC April 25, 2004