Facilitated by Singer-Songwriter Margie Adam
"The most enduring change agents and the most effective world citizens are those who are uniting the activist and seeker impulses within ourselves." –Margie Adam
Margie Adam is a singer-songwriter whose commitment to healing, peace and justice shines powerfully through her songs, her performance and her current work with the labyrinth.
Widely respected as an artist-activist, Margie's song "We Shall Go Forth!" (popularly known as the anthem of the Women's Liberation Movement) resides in the Political History Division of the Smithsonian Institution. Over the past thirty years, she has helped define Women's Music as a cultural and political force. At the same time she has raised funds and visibility for numerous issues of particular concern to women, LGBT people and the progressive community.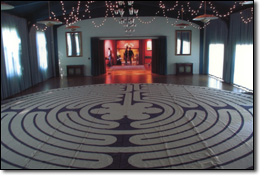 The labyrinth is a walking meditation activity that can also be used as a community-building tool for "long haul" social change activism. Veteran feminist singer-songwriter Margie Adam brings her activist perspective to this ancient contemplative practice in a workshop which includes historical context, applications for our peace & justice work and a walk on her 36 Ft. canvas labyrinth.
Having studied extensively with Dr. Lauren Artress, author and founder of Veriditas, the World-Wide Labyrinth Project, Margie has developed her own perspective on applications of the labyrinth for personal growth, stress reduction as well as community-building.
Margie's labyrinth workshop presentation incorporates historical context and discussion of various applications for the labyrinth, with a focus on the healing, peace & justice communities. She provides written materials to enhance the presentation. Following the presentation and short Q & A, Margie facilitates a labyrinth walk accompanied by her new work, Portal, an audio-visual program with contemplative piano solo music and choreographed visual imagery from Scotland's ancient Callanish Stones. She will also offer a post-walk dialog for those who want to share their experience with others.