October 23 – San Francisco, CA
Day of Meditation and Prayer for Peace
Ft. Mason Pier
With Cheri Huber, Michael Lerner, Sylvia Boorstein and other activist/seekers.
Margie facilitates on open labyrinth walk from 10:30-5pm for all participants.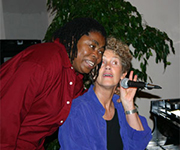 October 8-11 – Santa Cruz, CA
Astraea Lesbian Foundation Retreat: Women and LGBT Philanthropy Chaminade Retreat Center
Margie and Melanie DeMore help build community
with sing-alongs and a concert Sunday night.
Margie also facilitates labyrinth two walks for the attendees.
October 7, 2004 – San Francisco, CA
Women's Building 25th Anniversary Gala
Margie will be appearing with Gloria Steinem, Linda Tillery, Janice Mirikitani, Cris Williamson, Loco Bloco and others…
Herbst Theatre, Van Ness Ave.
July 22-25 – Columbus, OH
30th Annual National Women's Music Festival
Margie headlines the July 23, Friday night Main Stage Concert with Tret Fure and Zoe Lewis. Other artists performing over the weekend include Cris Williamson, Ubaka Hill, Suzanne Westenhoefer, Alix Olson, Ember Swift and Wishing Chair.
July 18 – Berkeley, CA Sunday 2:00 – 4:00 pm. – Out Front For Kerry
DoubleTree Hotel © Berkeley Marina
This event is a fund-raiser for John Kerry's presidential campaign and is organized by the Bay Area LGBT community and friends. Margie is a Co-Host of the event and will be a featured speaker along with Rep. Barbara Lee, Assemblyman Mark Leno, David Mixner and others.
June 17 – Marin, CA Thursday 3:00 – 6:00 pm
Marin Services for Women 25th Anniversary Open House
Margie will be performing during the program (4 – 5 pm)
1251 South Eliseo Drive, Greenbrae, CA.

April 25 – Washington, DC
March For Women's Lives
Mainstage at The Mall (between 3rd and 14th Sts.)
Rally from 10am to 12pm, March from 1-5pm.
For more information, visit www.marchforwomen.org
Margie is one of the speakers/entertainers who joins a coalition of 1200 organizations including NOW, NARAL, ACLU, Black Women's Health Imperative, Latina Institute of Reproductive Health, Planned Parenthood at this rally/march for Choice. Click here for Margie's speech.
April 13 – Oakland, CA
"In Sickness & In Health" – Mautner Project Event
Margie is co-host of this first-ever west coast MP event held to raise visibility and funds for this important national organization focused lesbians and breast cancer.
March 31 – Berkeley, CA
Outstanding Berkeley Women Awards Ceremony
City of Berkeley – Commission on the Status of Women
Margie is honored for her "outstanding work and unique community/professional contributions on behalf of the citizens of Berkeley."
North Berkeley Senior Center, 1901 Hearst St.
March 30 – Palo Alto, CA
Community Labyrinth Peace Walk
Margie gives a short history with personal reflections on the labyrinth followed by a facilitated walk.
Notre Dame de Namur University, Campus gym, 12noon-2pm
February 22 – San Francisco, CA
Wedding Reception for Del Martin & Phyllis Lyon
Hyatt Regency Grand Ballroom, Market St.
2pm – Free and open to the public
Margie serenades Del and Phyllis with "Goin' to the Chapel" along with friends,
Linda Tillery, Vicki Randle and Melanie DeMore at the LGBT's community wedding celebration.