October 28 Berkeley, CA 4-6:30pm
East Bay Labyrinth Project Benefit
"PORTAL Experience"
Music by Margie Adam, Set Design by Julia Morgan
Join Margie for an intimate afternoon of piano, voice in the library and a labyrinth walk in the great hall of architect Julia Morgan's exquisite Berkeley City Club. This event launches the East Bay Labyrinth Project's campaign to raise $100,000 to bring a public and accessible labyrinth of great beauty to the Berkeley Marina.
Berkeley City Club
2315 Durant Ave. @ Fulton Ave., Berkeley, CA 94704
Register early as seating is limited.
Advance-$25; Door-$30; Student-$15
Tickets available online, here.
For more information, download the flyer.
October 27 Oakland, CA 2pm
Pat Bond Old Dyke Awards Celebration
Reception followed by ceremony (awardees to be announced)
Margie (who recently turned 60!) will do a short set celebrating the old lesbians being honored by the community. Melanie DeMore will be MC so the two singers will likely raise a joyful noise together!
First Unitarian Church of Oakland
685 14th Street, Oakland
BART 12th St. Station (14th St. Exit)
Tickets: $10 – $35 sliding scale (No one turned away for lack of funds)
Details: Pat Bond Awards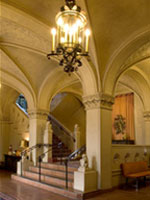 October 12 – San Francisco, CA 6:30-8:15pm
"Grace After Hours Labyrinth Walk"
Margie performs contemplative piano music from her work, PORTAL in candle-lit Grace Cathedral next to the labyrinth while imagery of Scotland's ancient Callanish Stones from her PORTAL DVD is projected on silk panels hung from the balcony. Lauren Artress, writer and labyrinth visionary will give a presentation at 7:30pm in the Chapter House next door.
Grace Cathedral
1100 California St.
San Francisco, CA
Free to the public

September 28-29 Northampton, MA
"The Power of Women's Voices:" Celebrating the Sophia Smith Collection
65 Years of Collecting Women's History at Smith College
Margie will sing (1:30pm, September 29) at this two-day gathering including Gloria Steinem, Joan Biren, Carmen Vasquez and other voices of feminism.
Weinstein Auditorium
Wright Hall, Smith College
Northampton, MA
Free and open to the public
Details: Susan Barker at 413.585.2970 or sbarker at email.smith.edu or visit "The Power of Women's Voices"
September 23 – Berkeley Marina, CA Anytime 12noon-3pm
Open Labyrinth Walk
Margie and the East Bay Labyrinth Project gang (led by KT Graham) are installing a full-size temporary labyrinth early Sunday morning at the future site of the permanent labyrinth at Berkeley's marina. Join us anytime noon to 3pm. Berkeley Marina East Lawn
Take University west off 80 to the Berkeley Marina. The labyrinth site is just south of the Marina Blvd. junction, not far from the Marina bus stop, on the left. Public parking is available.
Free and open to the public.
June 2 Berkeley, CA 8pm
Freight & Salvage Coffee House
1111 Addison St
Berkeley, CA 94702
For info and tickets: (510) 548-1761
June 8 – Kalamazoo, MI 8pm
Concert & Indoor Labyrinth Walk w/ "PORTAL to Avalon" multi-media presentation
Parish Church @ Cathedral of Christ the King
Vincent St., Kalamazoo, MI
Free & open to the public.
There will also be an outdoor open labyrinth walk before the concert at 7pm.
For more info: lkadamcz@juno.com
June 22-24 Santa Fe, NM 8pm
Las Hermanas Old Feminist Reunion
Margie will perform a concert Saturday night in the midst of a weekend of feminist events and symposia including Mary Daly, Sonia Johnson, Cherrie Moraga, Sally Gearhart, Alix Dobkin, Paula Gunn Allen, Shaba Barnes, Hye Sook Hwang, Afia Walking Tree, and others. See flyer

April 29 – Oakland, CA 2-5pm
Book Party for Barbara Love and "Feminists Who Changed America 1963-1975"
Event co-produced by Margie Adam and Boo Price in celebration of Barbara's remarkable contribution to feminist history.
Program will include music by Margie, comments by Barbara Love and women who are featured in the book, refreshments and community.
Montclair Women's Cultural Arts Club
1650 Mountain Blvd.
Montclair, CA
April 28 – San Francisco, CA 6:30-10pm
18th Annual Gay & Lesbian Alliance Against Defamation (GLAAD) Media Awards
Westin St. Francis Hotel
Margie presents Del Martin & Phyllis Lyon the GLAAD Pioneer Award (given to a pioneering individual, group, or media outlet that made a significant contribution to the development of lesbian, gay, bisexual and transgender media images prior to the creation of the GLAAD Media Awards.)
Click here for Margie's introduction.
April 19 – Oakland, CA 7pm
Third Thursday Women's Showcase Open Mic
Margie is the "featured artist" and will perform e-part harmony version of "We Shall Go Forth!" for the first time since 1984. Come prepared to sing!
Montclair Women's Cultural Arts Club
1650 Mountain Blvd.
Oakland, CA
(corner of Mountain and Thornhill off Hghway 13)
All women welcome
Tickets $5
April 5 – San Francisco, CA 6-9pm
First Annual DreamSpeakers Awards
Purple Moon dance Project honors artists, especially women of color and lesbians, whose work continues to inspire social change, peace and healing. Margie joins Jewelle Gomez and Teresa Mejia in presenting awards to DreamSpeakers, Melanie DeMore, Madeleine Lim, Rhodessa Jones, Ellen Reiko Bepp, Sarah Crowell, Pamela Peniston, Neelanjana Banerjee, Ana Maurine Lara, Arisika Razak and Nancy Otto.
Zeum Theatre
221 4th st. @ Howard
San Francisco, CA
Ticket information: 415.552.1105
February 9 – San Francisco, CA 7pm
"Grace After Hours Labyrinth Walk"
Margie performs contemplative piano music from her recent work, PORTAL next to the labyrinth while the dawn-to-dusk photographic montage of Scotland's ancient Callanish Stones from her PORTAL DVD is projected on silk panels hung from the balcony.
Grace Cathedral
1100 California St.
San Francisco, CA
Free to the public
February 8 – San Francisco, CA 4:30pm (closed event)
Center of Excellence in Women's Health
Conference with seven nation-wide academic/community partnerships Labyrinth presentation, walk and post-walk discussion for conference participants