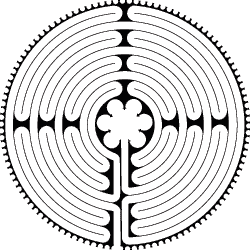 At the Edge: A Conversation
Between Seeker and Activist
with
Music and the Labyrinth
Lauren Artress
Founder of Veriditas,
The World-Wide Labyrinth Project
Author, "Walking A Sacred Path: Rediscovering the Labyrinth…"
and
Margie Adam
Feminist Singer/Songwriter
Recording Artist-Producer, "Avalon" on Pleiades Records
"Learning to work together and celebrate our differences is hard work. It needs introspection and discernment; it demands action on the individual and collective levels. This is the mission of the labyrinth as it re-enters our world." – Lauren Artress
Present world circumstances hold an opportunity for seekers and activists to create a new shared vision. When we unite spiritual practice with an activist perspective, we become an irresistible force for healing, peace and justice.
Lauren and Margie consider key ideas and questions in a conversational format punctuated with songs and story-telling. Where are the intersections of spirituality and activism? Of personal work and community involvement? What are the dynamics of "being called" to one's creative work in the world?
You are invited to walk the labyrinth, to use imagination, reflection and intention to explore the impulses enlivening us as individual change-agents and world citizens.
Margie will accompany the candlelit walk in Grace Cathedral with a blend of her solo piano compositions and improvisation. Following the labyrinth experience, we reconvene to share thoughts and insights
"The most enduring change-agents and the most effective world citizens are those who have integrated the activist and seeker impulses within themselves." – Margie Adam
Co-sponsored by: Veriditas, The World-Wide Labyrinth Project and The Avalon Project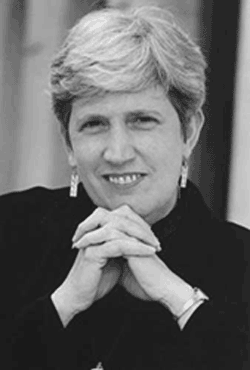 Lauren Artress
The Reverend Dr. Lauren Artress serves as Canon for Special Ministries at Grace Cathedral, and is the creator of Veriditas, The World-Wide Labyrinth Project, located at Grace Cathedral in San Francisco. She is the author of Walking A Sacred Path: Rediscovering the Labyrinth as a Spiritual Tool (Putnam/Riverhead Books, New York). She has been with the Cathedral since 1986 when she first served as Canon Pastor and then Canon for Special Ministries from December, 1992 to the present. She created Quest: Grace Cathedral Center for Spiritual Wholeness in 1987 through the Laurence S. Rockefeller Fund for The Enhancement of the Human Spirit. In April, 2002, she was presented with the prestigious Gandhi, King, Ikeda Award from Morehouse College in Atlanta, Georgia. She has also received an honorary doctorate from the California Institute of Integral Studies.
The Labyrinth Project centers around a twelfth century mystical tool, symbolic of the Path of Life, and re-introduces walking meditation to seekers from all walks of life. Lauren Artress facilitates workshops world-wide and lectures on the labyrinth and on Hildegard of Bingen. She creates large group events that nurture the connection between the human and Divine, such as the Pilgrimage weekends at Grace cathedral and The Theatre of enlightenment. In 1996 she created Veriditas, a non-profit organization dedicated to introducing people to the healing, meditative powers of the labyrinth. In addition to being an Episcopal priest, she is a licensed psychotherapist in the State of California.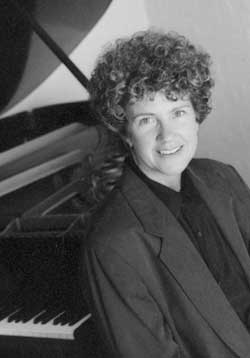 Margie Adam
Margie Adam is a singer-songwriter-activist known for elegant love songs and inspiring songs of conscience. She is also a sophisticated composer of pop-jazz solo piano music. Margie's intimate performance style is a rare blend of brazenly smart wit, insightful observation and politically astute commentary. She fuses the personal and political effortlessly. As The Boston Globe points out, "political passions are banked deeply in Margie's music, but so is a kind of maturity and a sure, real-life romanticism."
A major force in the Women's Music genre, Margie Adam has appeared in media outlets including CNN, New York Times, network radio and TV. As an organizer, she has worked to raise funds and visibility for feminist and progressive organizations and issues. She has recorded eight albums on her label, Pleiades Records, including five singer/songwriter releases, two solo piano recordings, and a live performance. Her song "We Shall Go Forth!" is archived in the Political History Division of the Smithsonian Institution. Margie's songwriting/recording credits include "Something About Us" on David Benoit's latest CD compilation, Songs without Words, "Beautiful Soul," recorded by Dusty Springfield on Beautiful Soul-The ABC-Dunhill Collection, "Best Friend-The Unicorn Song," recorded by Peter, Paul and Mary on their Reunion album and "Tender Lady," found on Cris Williamson's Changer and the Changed. As Jazziz magazine has said: "Her solo piano work has the honesty of a Georgia O'Keeffe painting and the emotional punch of a Flannery O'Connor short story." Used extensively by National Public Radio, her piano music has been the soundtrack for countless films and dance pieces.

At the Edge: A Conversation Between Seeker and Activist includes music from Margie's latest release, Avalon, Another Place, and piano solos from previously released Naked Keys and Soon and Again, all on Pleiades Records.